Only a few months ago to automate customer service seemed for many companies just a nice little addition. Today, however, we know to have entered a completely new era of social organization. In this new era, we should be ready to expect unexpected, fast changes and the need to reorganize ourselves. In that new normal the winners are those who adapt well.
Service robots communicating in the text are no longer a rarity in Estonia. In fact, they are becoming more and more common, even if many of these just answer FAQs or give a content overview. This has less to do with the robots' capabilities than the fact that the owner is still at the very beginning of the learning curve.
The special conditions applied due to the pandemic shook all entrepreneurs. Having as good as the whole society move into their homes changed the external environment for Elisa considerably. First of all, this meant a change for network use. It was like New Year's Eve, when everybody wants to make a call at the same time, only with the difference that one night in the year turned into a daily 12-hour workday. Also, the number of people who needed Elisa's help increased by as much as 20%. In addition to all that, we as a company also needed to relocate our 1000 employees to work from their homes. Thinking about it now this sounds like the perfect recipe for total anarchy, overall confusion and chaos. Plague, famine and the solar eclipse all on one day.
As crazy as that was, in practice, the chaos settled fast – every particle knew exactly what their individual task was. The whole company changed its form as if it were a transformer. What used to cruise comfortably became an agile warrior beast. The main reason for achieving that was conscious people management and an earlier practice of adjusting to changes. However, when it came to serving our clients, our customer service robot Annika had an important role to play in reorganizing the work of our call center.
The call center deals with the clients that call Elisa. In an ideal world, each caller would be immediately put through to that service staff member that can best address their problem. According to our most conservative estimate, there are over 800 topics that our clients could be contacting us about. This is why it is impossible that any one person could be able to help each caller. As in many other larger companies, also in Elisa service staff members are specialized on a particular topic and in case they are approached with a "wrong" issue, they will forward the call to an employee who can best help with that particular problem.
Having a call forwarded like that is not nice for anybody. The representatives are not happy that they waste time on something that is not directly helpful for the client. The clients are not happy because they feel their time is being wasted. This is why in 2019 Elisa introduced a customer service robot, Annika, who answered all calls, listened to the client, and then transferred the calls to the right employee. A year ago our clients were still skeptical about the Estonian-speaking robot, thinking that they have to be very careful about which words or code names they use when explaining what their problem is. Today, just before Annika's first birthday, clients are all very calm and natural when talking to the CallBot. There seems to be no difference in how they would talk to a human representative.
Now in March 2020 such an effective robot contact transferring helped us in many ways with the call center automation. We were able to save our employees' time by reducing the number of calls they had to forward to a colleague, and each client was served faster. Additionally, we were also able to register the problems of those clients who didn't even get through to a service staff member due to the extraordinarily high demand. If clients themselves choose the right topic for their call in about 75% of the cases, then our April check-up found that Annika's rate is 90%. Serving tens of thousands of clients a day makes a huge difference whether we have to forward 10 or 25% of our callers.
What's more, Annika enables an easier introduction period for a new employee who might not yet be able to answer all questions fully. In a situation where all of us are working from home, the learning process is, of course, slower than usual. Therefore, any kind of automated pre-filtering is even more important.
We are to expect similar sudden situation changes also in the future. We have all learned by now – or are in the process of learning – how to work from home. But in order to be really ready for the next crisis, we must have other solutions to go with it. People need a little time to adjust to changes and reorganizing our personal lives also requires attention. Each minute that we can save for our employees or each activity that can be simplified using AI is worth it. The sooner we can provide that, the better.
Therefore, if your government institution or private organization hasn't already started to build a crisis-proof solution, know that the necessary technology already exists. It only needs to be taken into use.
Written by Mailiis Ploomann, Head of Telecom Services at Elisa Eesti AS.
Want to learn more?
Want to learn more?
Harry Liimal
HEAD OF BUSINESS DEVELOPMENT
Harry has years of experience working in business development, strategy, and digitalization for some of the world's largest companies. He is a people person, who enjoys fast-paced environments and multiple responsibilities. He is especially curious about transformation and disruptive technology.
Harry holds a Master's degree in Law from the Tartu University and is acquiring an MBA at the Estonian Business School. He has also studied innovation management in Japan at the Nagoya University of Commerce and Business.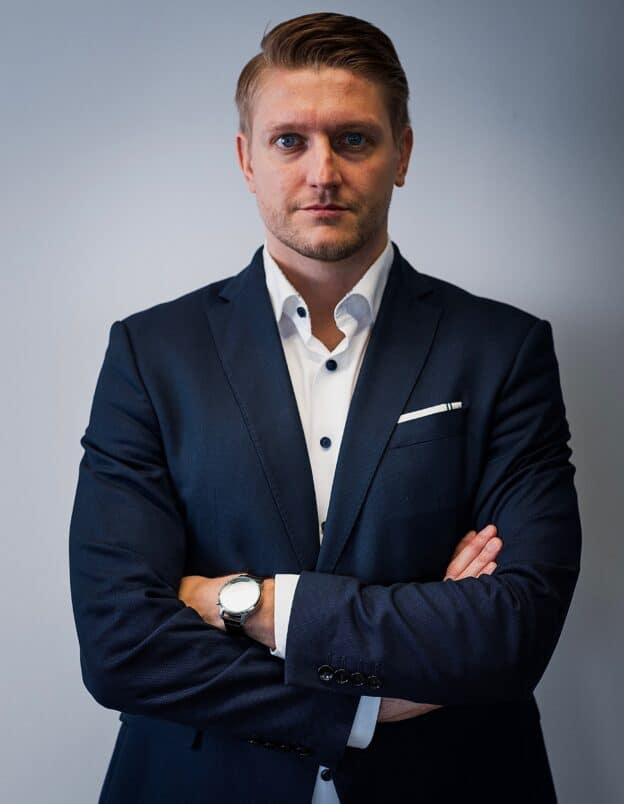 Want to learn more?
Want to learn more?