Callbots are the next wave of developments

Available on our YouTube channel, link in the end of the post
This is the first part of a three-post series based on our interview with Mailiis Ploomann, Head of Telecom Services at Elisa Estonia. Read about what kinds of obstacles Elisa has overcome on the way to becoming a customer success innovator.
Mailiis started her journey with Elisa 10 years ago as a Product Manager. Several years later she became the Head of Telecom Services. One of the greatest projects she has led was customer service automation through AI technologies which made her an innovation leader in the field.
If you're from a large company with lots of customers, you probably know that poor customer service kills business. The most dangerous situation that can happen in that case is a constantly growing churn. When it becomes impossible to keep relations with current customers, there's no point to even talk about acquiring new ones. After purchasing a product, customer service becomes the client's key point of reference. It's the actual communication with the company that builds customer experience.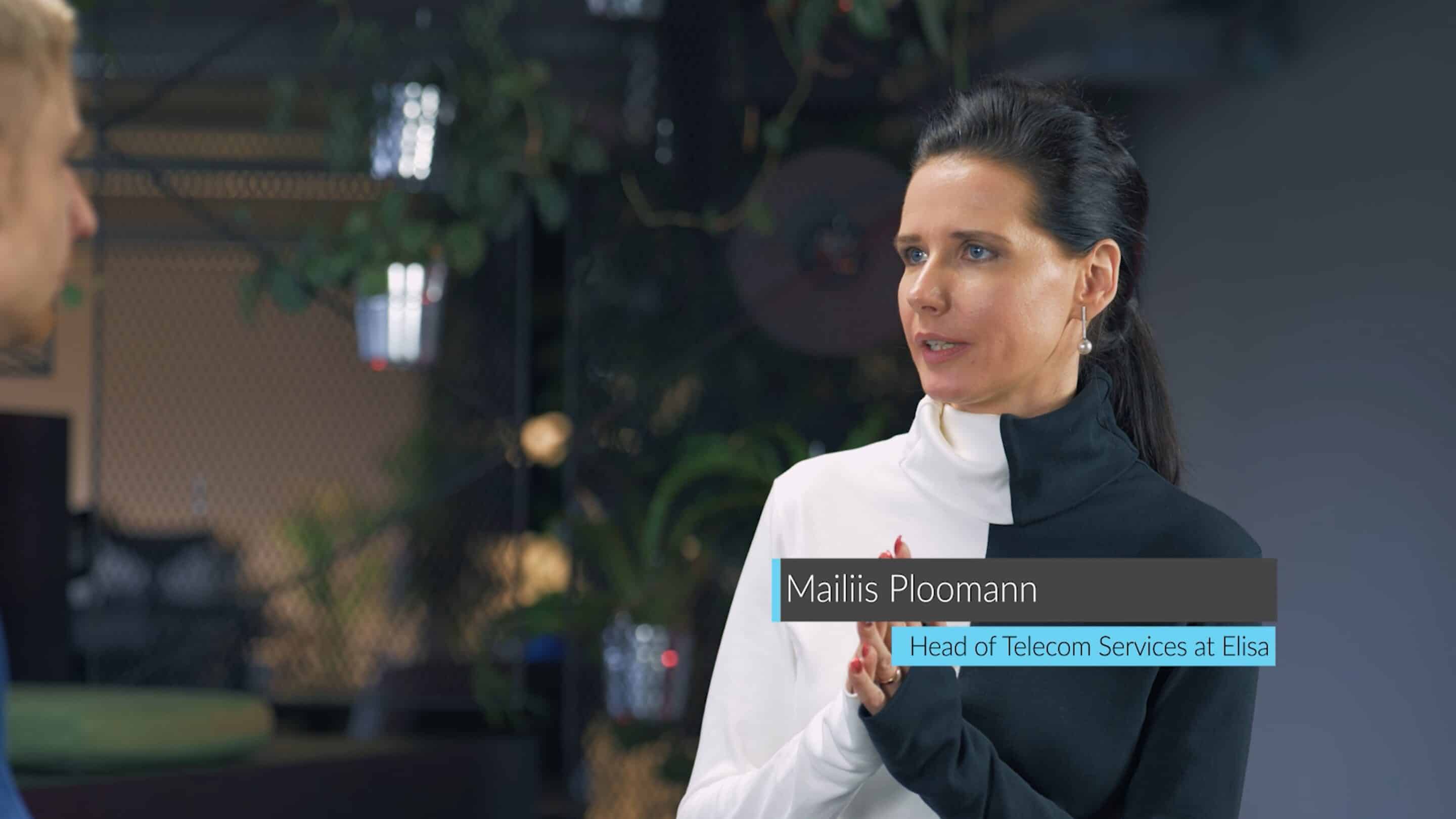 Mailiis Ploomann, Head of Telecom Services at Elisa
Mailiis, do you agree that customer experience is one of the most important things in the long-run success of a customer service company and why do think so?
The most important part is that everything works technically. Because from the telco for you it's important that YouTube and other services work. Customer experience has to be on point in the places where you might need customer service. Everything depends on the quality of the network and then on those touch-points where everything must be handled smoothly, quickly, and in the most convenient way for the customer. So yes, I agree with that.
What is the most important thing in customer service at Elisa?
The most important thing for any telecom company is that you would be there for your customer at the exact moment when your customer needs a solution, whatever question or problem they have. But it's not that simple. There are other components in this equation: to do it cost-efficiently, sustainably. This means it's good to depend less on human labor. Not because there's something wrong with it but because in the future you won't be able to meet customer demand with it. And that's the main reason why we've chosen to automate customer service.
How many customer contacts does Elisa have per month?
It varies a bit on the month of the year. But it would be 100,000 to 150,000, if we count all incoming contacts in all channels.
How many employees do you have in customer service?
The average equation would be that 1 person should be able to handle 1,000 customer contacts per month. However, there are departments that require more time to handle one contact because some issues are more complicated. If we take into account both inbound and outbound calls, we need more than 500 people.
What are the biggest challenges when it comes to such a big group of customer service representatives and customer contacts?
Human beings are emotional and they don't like repetitive tasks. They'd like their job to be creative. On the other side, we need people who would be bilingual, able to serve customers in both Estonian and Russian, English is coming up more frequently as well. So we need two to three languages, but the person would also have to be a bit technically savvy. There's no need to be a fan of technology but one shouldn't be afraid of technology either. We're lucky to have those 500 people who tick every box but to have them still want to come to work for us and do that for two or three years in a row – that's something that just really doesn't add up, not anymore. People should be handling the contacts that are more complicated and require more creative thinking. This is what humans are good at, so it should be left for human agents. Automation should handle all the rest and do everything that a customer needs to be done but in a pre-programmed way: instantly, efficiently and a thousand times per second.
Do you mean that you'd liike to have fewer people because it's time-consuming even to prepare such people? Training is also time-consuming and cost-heavy.
Let's say, in a fantasy world where you have tens of thousands of people who want to do this job and be customer service agents for five or ten years in a row, it wouldn't be a problem. But the reality is in the minds of, especially young people, who love doing this work but for a maximum of one or two years. Then they want to move on, experience something new. This customer service job is an entry job into the technology world where they can learn a lot about what customer service is, what a network is and how it all works. If it happens that we end up with a bunch of people that find out that they actually don't like this job, it's not their cup of tea, then we need to retrain people: four, six or even nine months, and that's a problem. Because it takes time and energy. Also, the quality of customer service that you would get is not that good when a customer service agent doesn't really want to do that specific job. So the cost actually comes from different places, including time spent on training or redoing someone's work who didn't want to do it.
So eventually staff turnover can be one of the obstacles in dealing with such a group of agents, right? Can we define it as the biggest problem in customer service in general, considering such a big number of people, or are there any other big problems to mention as well?
You can always find bigger problems but I think that staff turnover it's something that has made so many managers worried, for a reason. There's a certain level of expertise a customer is expecting, especially when it comes to technology. And technology is getting more complicated year by year. It doesn't even matter if you have only fixed services or only mobile services. The period of time that you need to train a customer service agent is a problem, and definitely so if they switch their job internally or leave the company.
In several interviews, you have mentioned that the biggest problems with customers service arose two years ago when you merged with Starman. The abandoned call rate reached 65% and you had to do something to change the situation. That was one of the reasons you wanted to implement innovations at Elisa. 
That was a really bad time for us. I think it doesn't even matter if the companies you're merging are among the biggest companies in a country. You're also merging two cultures, and it's never easy. Everyone had to learn a new set of skills and put it on top of the skills they already had. It was February or March, a flu season, and we constantly had two full teams of people missing. And when there are 100,000 or up to 150,000 contacts coming in in addition, it's not a nice situation. We were answering emails two weeks back and our abandoned call rate was 60%. People keep on calling because they still want to get in contact. That was the situation where we actually decided that we will find a way out of this situation. From then on, we wanted to build our customer service to be future-proof and not reliant on human workforce. We have to take a few steps further whenever we hit another rough edge. Like we did during the coronavirus crisis in 2020. We should be ready and have something that would help us during these times when everything else falls apart. So that was the place where we decided to start automating customer service.
Wrapping up Takeaways
Key findings from this part of the interview:
One of the most significant things in customer service is customer experience. It's important to be there for your customers, no matter what time it is and what kind of questions they have.
With a customer service team of more than 500 people,  and around 100,000 to 150,000 customer contacts per month, there are issues with staff turnover, and maintaining customer service on top level at the same time. These result in longer waiting times, higher abandoned call rate and churn.
The solutions for customer service must be sustainable, cost-efficient, and future-proof. That's why it's necessary to start automating customer service.
What are the biggest problems you're dealing with in the customer service of your company? Read the next article with the details on how Elisa solved their problems!
View the full interview and subscribe to our YouTube channel
Want to learn more?
Want to learn more?
Konstantin Sadekov
HEAD OF GROWTH AND MARKETING
Konstantin has graduated from the Estonian Business School major in economics and finance and is currently doing his MBA degree in the USA. Before joining MindTitan he had an international business management experience for more than 5 years and overall more than 9 years of international B2B sales and marketing experience
Want to learn more?
Want to learn more?