Almost half of businesses believe artificial intelligence and machine learning (ML) are more important than they thought, Forbes experts claim. In 2020, enterprises focused on projects that resulted in sales growth and cost savings. They addressed these goals in the ML pipeline, emphasizing scalability, elasticity, and ML functionality.
Machine learning is a current buzzword, but what does it really mean in the context of enterprise software? How does it work, and what best practices will help you succeed? Where is machine learning technology adding business value today, and what should we expect from it in the future?
What is machine learning?
Machine learning is an umbrella term that includes different concepts. However, they all are about bringing value to society or business. The shortest explanation of the machine learning process is to imagine it as a kind of production line. Like a manufacturing floor, machine learning produces output from input (varying data types). For proper model development, ML algorithms need the dataset to be trained on before they can produce quality outputs from new, previously unseen data.
For those who want more: machine learning models process input (e.g., information from your CRM, databases, spreadsheets) and provide an output (e.g., finding fraudsters, handling claims, classifying what the customer asked). Using existing data, the machine learning team teaches algorithms to produce the required output. For most businesses, that's an essential understanding, and there is no need to delve deeper. An experienced ML partner can help you assess and navigate the specifics of your use case.
Where is machine learning adding value for enterprises today?
Machine learning is currently being used effectively in enterprise software to automate routine processes. Rather than starting with the data, the initial step is defining a business issue to solve and then the exact process to enhance. Explore the problems first by discussing essential questions with your specialists who know the processes from A to Z.
Does the business problem you are trying to solve look like a process?
Is there a clear beginning and an end with logical steps in between?
How are the decisions made, and what kinds of data are used to make those decisions?
Additionally, the processes more suitable for AI implementation have the following features:
mostly routine and standard
possibility to add new data to train and improve an ML model, updating the learning loop
interactions with the physical world are nonexistent or simple
performed frequently and require many people
could be improved if there was more time for analysis before decision-making
could be improved if all relevant data sources could be taken into account
You have to discuss four main questions to identify the right process to enhance with AI.
Could the process be automated?
Should the process be automated?
Should you use AI to automate the process?
Can you use AI to automate the process?
You have to get a positive answer for each question, one by one, starting from the first; only then can you move on to the next to get a good process/ML match. (To find out more, please read our AI life cycle guide.

However, the improvement degree for business outcomes that machine learning can reach depends on many factors. For instance, a stock trading forecast depends on far more variables than the algorithm can take into account and process. Thus, the resulting accuracy of such predictions is usually questionable.
Therefore, on the one hand, it is crucial to have harmonized, accurate and complete data to start with. On the other hand, applying ML isn't in itself going to result in better business decisions. Thus, it is crucial to consult with machine learning experts on whether machine learning applies to a particular problem when assessing an AI project's feasibility.
Problem-first approach
According to Gartner's hype cycle, different AI and ML technologies are currently trending. However, most people should understand that machine learning cannot be a solution to every problem. Moreover, you cannot solve the problem simply by feeding training data to machine learning algorithms and expecting it to magically deliver perfect business results.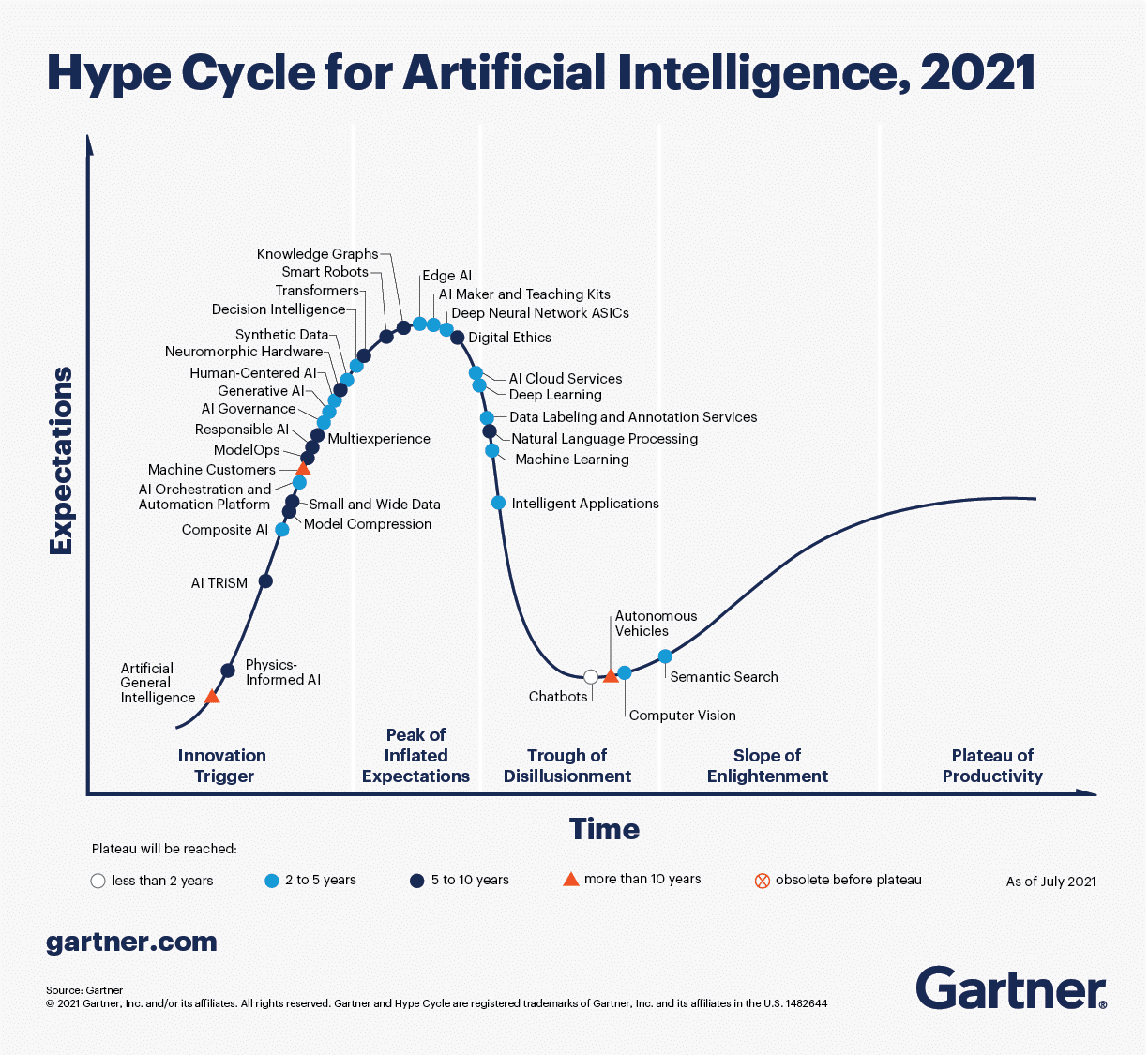 Hence, enterprise machine learning shouldn't appear just for the technology's sake. So the first question before applying ML is: What are you trying to achieve?
First, analyze the steps in your business processes that require any prediction or judgment. Then find out where any (even slight) improvement in the accuracy of those predictions would significantly benefit the business results. These processes could be the potential use cases for machine learning applications, which you may define more specifically with ML canvas.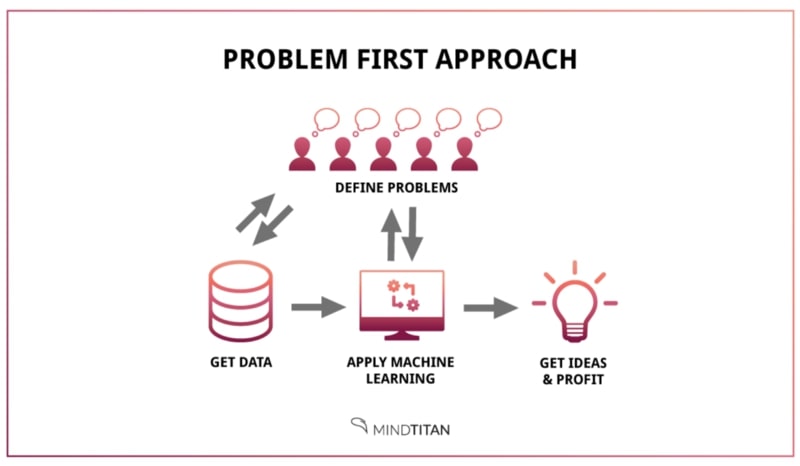 Challenges in enterprises' machine learning adoption
The pandemic's economic effects shook the AI/ML world. Before COVID-19, companies tentatively explored AI/ML projects, but the latest global situation revealed the urgent need to improve their performance, prompting businesses to invest heavily in artificial intelligence, cutting costs, and enhancing processes.
The number of enterprises with more than five machine learning use cases increased by 74% over a year. The top priorities have been customer service, safety, and process automation.
For example, AI image recognition is used for quality control, whereas ML models detecting objects in video identify employees under-equipped for specific processes. Furthermore, by developing natural language processing (NLP) in customer service, enterprises have improved client experience and enhanced retention.
However, several challenges remain for all enterprise machine-learning projects
Enterprises are usually already equipped with different technologies and complex machines. Such legacy components need integration with a new machine-learning solution. Hence, any changes in processes require approval and testing time.
Enterprises have processes for employees only and processes for customers. Thus, generally, they require both employee-facing and customer-facing apps. This means machine learning and data science teams should pay attention to both and consider their integration.
The bigger the enterprise is, the more complex infrastructure it has. Infrastructure peculiarities could bring issues with data collection and storage or machine learning model implementation. For example, necessary data produced on the production floor might be needed for ML models at customer service based elsewhere. As cloud services are not always a solution for enterprises (due to security or processes' structure), transferring data could become a struggle for data scientists when it is siloed, as in the example.
New technology adoption could be a challenge as well. Changes are always complex, but, for larger enterprises, such issues become exponentially more complicated.
Critical 2022 trends for enterprise machine learning
Enterprises could face problems in the AI/ML life cycle, especially and most importantly with AI/ML governance. For example, 56 percent of all organizations struggle with management and auditability issues.
AI life cycle and governance challenges
As mentioned above, integration with previous IT solutions is challenging for enterprises. A build-your-own ML model (frequently constructed from open-source components) is the most common alternative to a single custom AI/ML lifecycle solution.
However, businesses often neglect to account for the maintenance and upgrades as the components in their toolchain release patches and new editions at different times. It's telling that 86% of organizations struggle with frequent tooling updates. These continual changes result in mismatches and rework, or some features are dropped altogether. Such complications are an excellent reason to consider custom AI solutions, adequately engineered and planned from a holistic point of view. These factors should regardless be included in calculations for the ML project's total ownership cost, as should the time that AI/ML engineers spend on the machine learning applications updates.
In contrast, custom AI solutions made by experts are usually properly planned, or the data scientists and machine learning engineers closely follow all the tool updates, taking care of the system.
However, it is not an either-or situation: building an in-house solution doesn't mean you have to deal with it alone. So the best decision before starting an ML project would be to consult with experts in machine learning development.
Outsourcing solutions to decrease expenditures on model deployment
Before the pandemic, the shortage of in-house professionals was the primary concern for companies implementing ML projects. Now organizations have increased budgets and hiring and are eager to move ML models into production as fast as possible and to ensure their long-term success.
Despite this change in priority, model implementation requires more time and energy nowadays from enterprises, and the deployment window to roll out trained ML models to production is growing yearly. Notably, organizations with more templates demand more from their data scientists. The reason is that, generally, companies decide to expand ML projects without addressing fundamental and overarching organizational performance issues. Consequently, businesses devote more time and resources to concept implementation, exacerbating the problem.
The remedy is to use machine learning outsourcing via third-party solutions, thus getting better results (machine learning operations aka MLOps). For example, organizations that apply third-party technologies to their processes or use outsourced MLOps solutions have 19-21 percent lower maintenance costs than businesses that develop and operate their systems in-house from scratch. Additionally, on average, data scientists using third-party solutions spend relatively less time on model implementation, and it takes a lower percentage of their time to deploy a qualified model.
Having delivered over 90 machine learning projects worldwide, MindTitan owns the expertise of MLOps as well.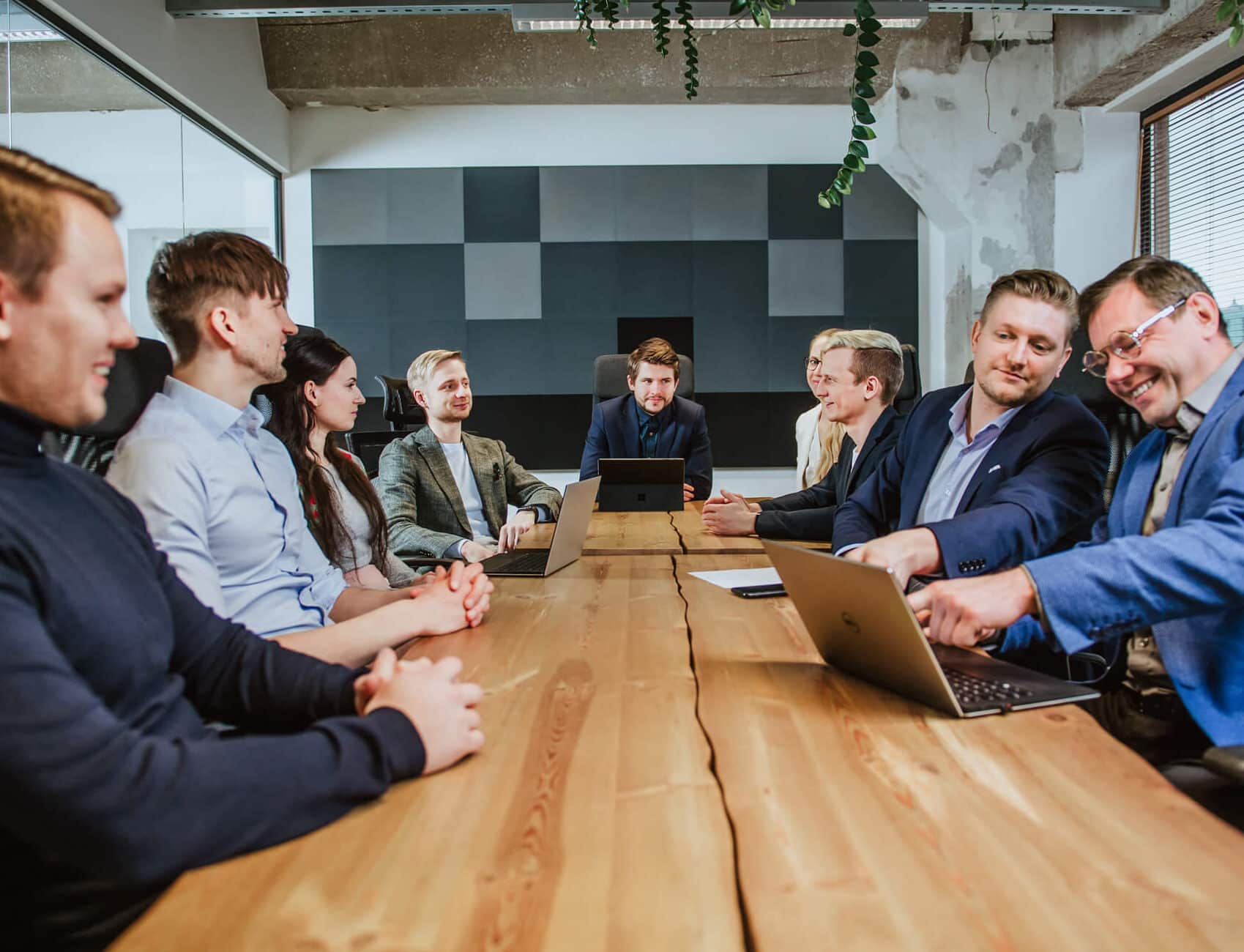 Making data accessible
As mentioned above, data collection and storage are usually not the most effective part of an enterprises' infrastructure. Data processes and data storage optimization, typically set up a considerable time ago, had a different focus than being easily accessible by data scientists and AI models. Hence, data management and infrastructure should be re-planned and re-implemented, which can be tricky for enterprises.
One solution is to create a "self-service data platform" that can work as an interface between the data storage and the data user. Finding a suitable way to make your data accessible for analysis without engineering overheads is a challenge for 2022. Again, machine learning consultants can help find the best way to solve the problem.
Best practices for enterprise machine learning
There are four general sides of every ML project: business, data, infrastructure, and application. Each side demands thorough investigation and attention.
Business side
It is essential to assess all details of the project, make sure that everyone understands them the same way, discuss concerns, and remove obstacles.
Make sure you have the "yes" from every necessary stakeholder
Mind that process changes are complex. Organizational and technical structure can take more effort and time than expected due to the enterprise's process.
Data
As mentioned above, while all enterprises have data of some form, the quality could be questionable. These data might not be suitable for ML training to make predictions as there might be too much noise in the data. Such noise can corrupt the model performance. However, cleaning the data enough for AI training could be so hard that it might be easier to collect new data with improved quality.
Infrastructure
Existing infrastructure can help, but it can also be a limitation due to performance not being designed for the intended data science use cases. Also, fancy cloud solutions may not be a viable alternative because of the processes and security reasons. The most realistic solution is to create an architecture that maximizes the existing infrastructure possibilities while adding new capabilities that are on-premise, in the cloud, or a hybrid of both.
Application
Whenever possible, do it quick and dirty to learn if it works and if people use it. Machine learning projects always have a high degree of uncertainty in terms of workload and result quality. Thus, to minimize the risk and investment, it's better to follow the "start small, learn fast" philosophy. This means building a feature-complete system with the minimal possible workload to get fast feedback if the ML model and available data play well together. The initial ideas might not perform as well as you hoped for; however, it does not mean you should give up. Compare the efforts to develop the proof of concept with its results, consult with ML experts, and they will help you to understand when you are ready to go into full development.
Conclusion
The allure of ML in enterprise software is that it's pervasive but not visible. While the main fear is that artificial intelligence will put humans out of their jobs, the truth is that, even though machine learning models are effective (if well-trained), they can never fully replace human intelligence in a business process. It will allow people to offload dull, repetitive tasks and focus on what really matters — adding value to the business.
There are multiple use cases for enterprise machine learning, providing significant benefits. For example, computer vision and AI in manufacturing improve production through assembly line automation and help maintain workplace safety. NLP in client support creates an exceptional customer experience and saves money. More specifically, Artificial Intelligence in Retail and eCommerce analyzes user behavior, whereas AI in education for enterprises can support personalized employee training and automate test checking. AI in banking, furthermore, can be used for fraud detection.
However, machine learning development is not easy: in most organizations (64%), more than a quarter of all developed models are not successfully deployed (meaning they're developed but not rolled out). Taking that into account, the wisest first step would be to use machine learning development services, no matter whether you are seeking to set up your own-built solution or use an existing platform.