In the world of technology, the rise of machine learning development has initiated a new era of innovation, becoming a transformative force shaping our digital landscape. With vast applications ranging from e-commerce recommendations to autonomous driving, machine learning has permeated every corner of our lives. Central to this technological revolution are machine learning companies, entities that are not only spearheading this development but are also defining the contours of this frontier. These companies at the forefront of uncovering novel solutions to complex problems are setting in motion a wave of advancements that are redefining industries and, consequently, the world as we know it. In this article, we will delve into the top 7 machine learning companies that are at the helm of this exciting transformation, steering us towards a future filled with limitless potential and unprecedented possibilities.
Understanding machine learning
Machine learning, a subfield of artificial intelligence, involves the design and application of algorithms that allow computers to learn from, predict, and make decisions based on data. In essence, it's the science of getting computers to learn and act like humans do, improving their learning over time in an autonomous manner, by feeding them data and information in the form of observations and real-world interactions. Machine learning companies leverage this technology to build applications that can solve complex problems and deliver innovative services. These real-world applications are diverse and span across industries: from computer vision in healthcare, where algorithms can assist in diagnostics, to AI and ML in finance, where they can help detect frauds and to entertainment, where machine learning powers recommendation systems for services like Netflix or Spotify. As such, machine learning has emerged as a driving force in our daily lives, thanks to the pioneering work of machine learning companies.
Criteria for evaluating machine learning companies
End-user customer support automation is a flourishing field for NLP applications, such as the conversational AI of chatbots or callbots. Human speech recognition via NLP enables machines to answer the users' questions or direct them to the most qualified person, thus reducing inefficiencies and saving time both for a client and an agent. In addition, with the help of natural language generation, you can create virtual assistants.
Selecting the right machine learning company can be a game-changer for your business. Having delivered over 100 artificial intelligence projects including successful AI upgrades of customer service departments, MindTitan experts are convinced that machine learning can provide significant efficiency, productivity, and profitability growth. The trick is to choose the right machine learning team to help you implement the solution. Here's what to keep in mind during your selection process:
Trust matters. A solid partnership based on trust often leads to success.
Approach to artificial intelligence is crucial. Look for a company with a clear working process and a history of similar projects. Remember that what seems 'similar' can vary from a business perspective and a data science perspective, so consult with an expert when in doubt.
Custom solutions might be necessary when an API isn't the perfect fit, so don't be put off by them.
Timely results are key, so make sure the company emphasizes swift development.
The team should have the diverse skills that meet your needs, and they should work well both independently and with your team.\
And, finally, make sure they provide a complete solution, not just a part of it. Opting for a turn-key solution will save you from hiccups during deployment and maintenance, enabling a smooth transition towards AI-enhanced operations.
1. MindTitan
When it comes to delivering custom AI solutions, MindTitan stands as an exemplar in the industry. Having delivered over 100 projects globally with an 85% success rate and more than 20 notable engagements in the public sector, their undeniably robust and deep expertise and experience are recognized by Gartner.
The company distinguishes itself through its focus on understanding and aligning with business objectives, acting as a supportive extension to a client's team rather than merely a service provider. Balancing work both independently and in conjunction with a client's experts ensures that projects progress smoothly and efficiently. Additionally, the company stresses the importance of swift development, an increasingly crucial aspect in the rapidly evolving AI sector.
The MindTitan team prides itself on their practical and measured approach to AI, avoiding getting swept up in industry trends and buzzwords, and focusing instead on delivering what is most effective for the project at hand. Their extensive project portfolio reflects this attitude and demonstrates their ability to tailor machine learning solutions to meet specific needs.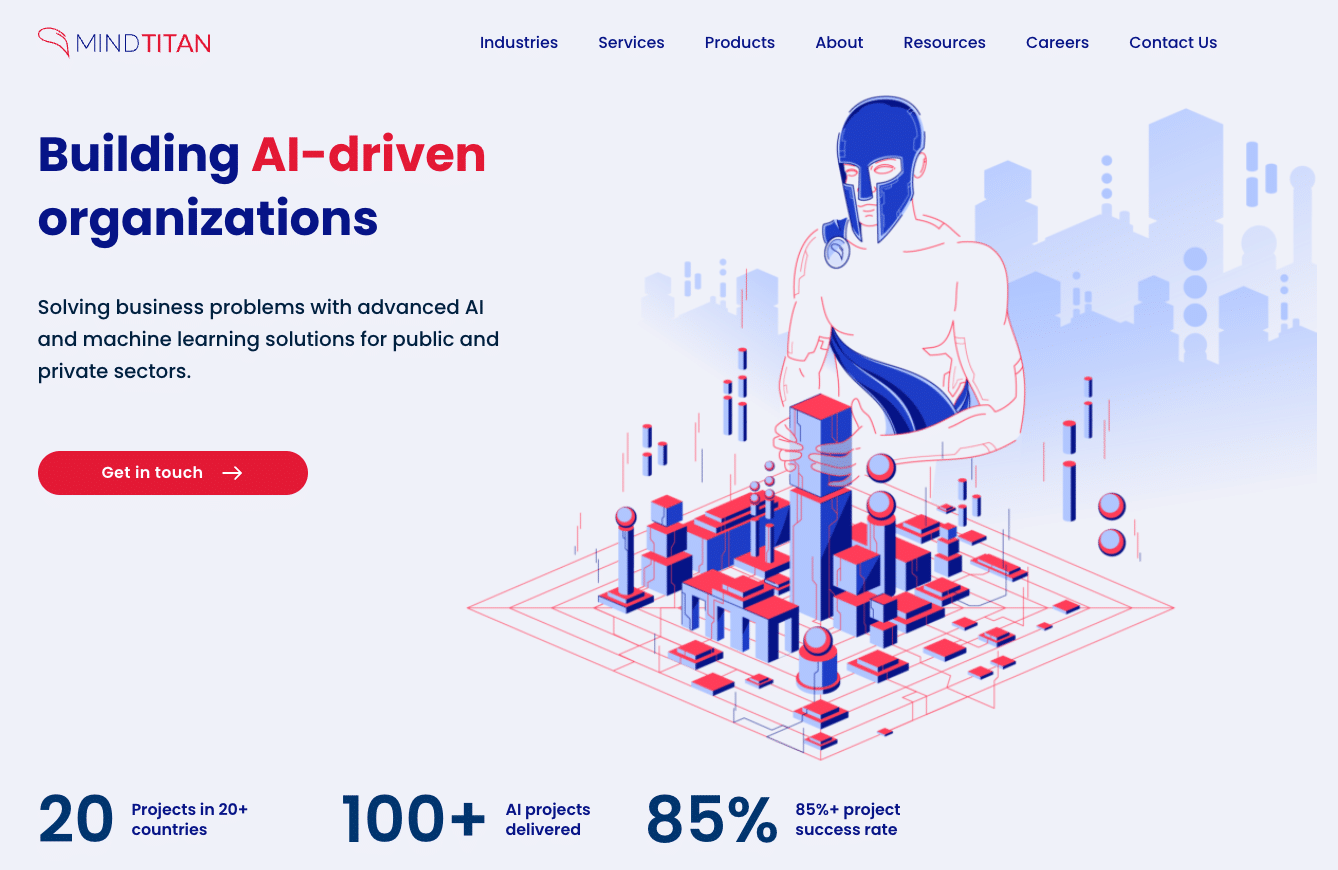 Another standout feature of MindTitan's AI and software development is the commitment to offering comprehensive, turn-key solutions. They aim to provide complete AI solutions that prevent potential issues during deployment and maintenance, facilitating an easier transition to AI-enhanced operations.
Overall, MindTitan offers a balanced, client-focused approach to artificial intelligence, with a clear working process, a diverse skillset, and a track record of delivering timely results. They emphasize complete solutions, emerging cutting-edge technologies and a capacity to adapt to client-specific needs.
Pros:
Business goals-first approach
Focus on both private and public sector projects with proven track records
Turn-key custom AI solutions
Solving cases no one could solve before
2. CHI Software
CHI Software is a global IT service provider with over 16 years of experience in the industry. With representatives and development centers in the US, the Republic of Cyprus, Poland, Spain, Ukraine, and Japan, they have made their mark on the global software development landscape.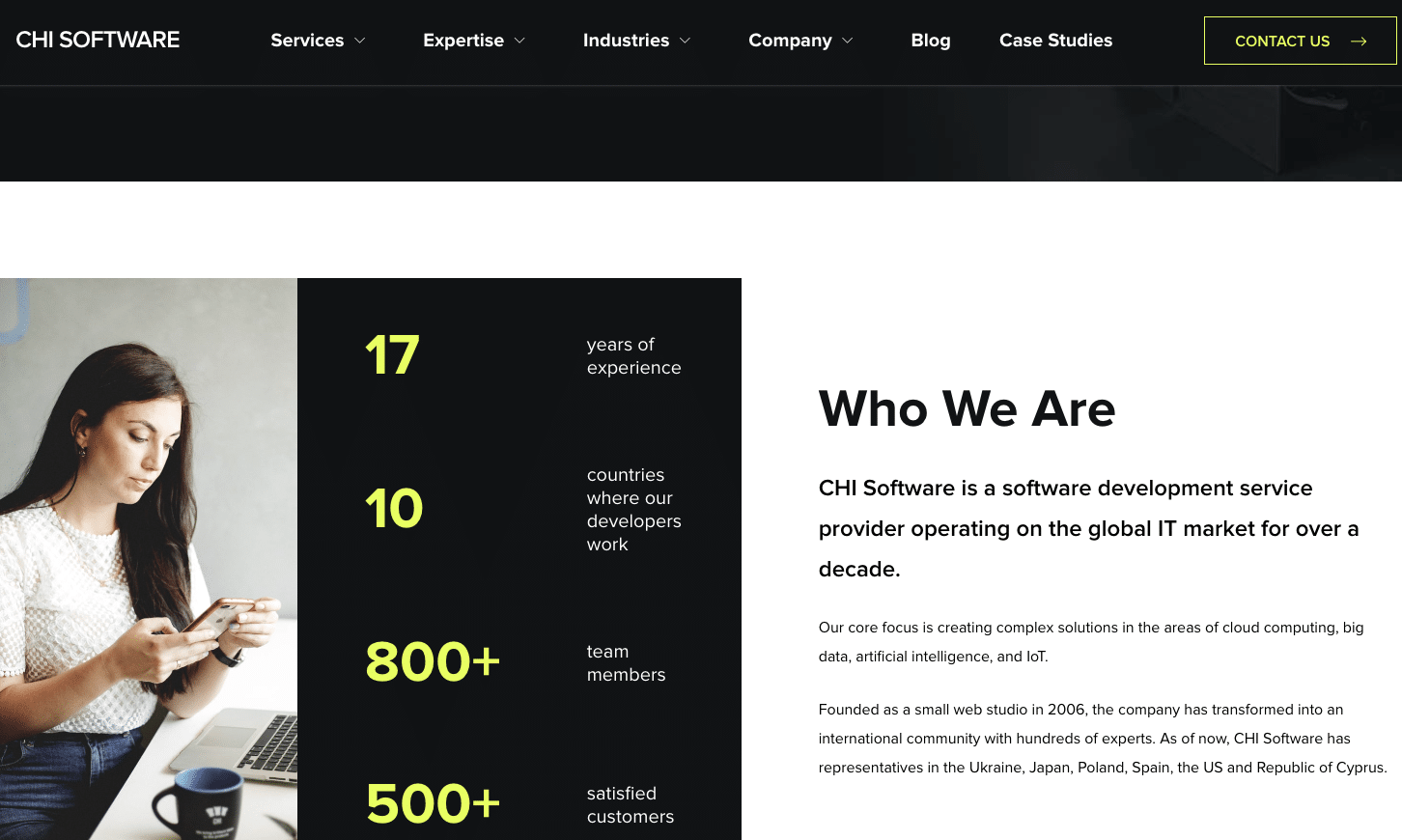 On Clutch, CHI Software boasts a 5-star rating, with clients showing a strong willingness to refer their services. They have worked with clients from diverse industries, offering services like software development, mobile app development, and e-commerce development. These reviews praise their strong communication skills, their bug-free and well-received applications, and their attention to the details and perspectives of the clients.
CHI Software's expertise extends across a wide variety of services. Whether a client requires assistance in e-commerce, software development services, or mobile app creation, CHI Software has the capacity and skills to deliver quality results. Importantly, their communication and professionalism have been repeatedly acknowledged, ensuring a positive working relationship with their clients.
Pros:
Wide range of expertise, including machine learning
Outstanding communication with clients
The core focus is creating complex solutions
3. Avenga
Avenga's expertise spans from custom software development services to cloud consulting, from client front- and back-end support to DevOps. In Ml/AI development, they specialize in comprehensive data services, developing and deploying solutions that allow our clients to gather pertinent data, derive actionable insights from both structured and unstructured data sets, and incorporate analytics into vital processes.
Reviewing customer testimonials, Avenga appears to be highly regarded for its professionalism, adherence to schedule, cost-effectiveness, and quality of services. Their clients appreciate their openness to feedback and their ability to adapt to client needs.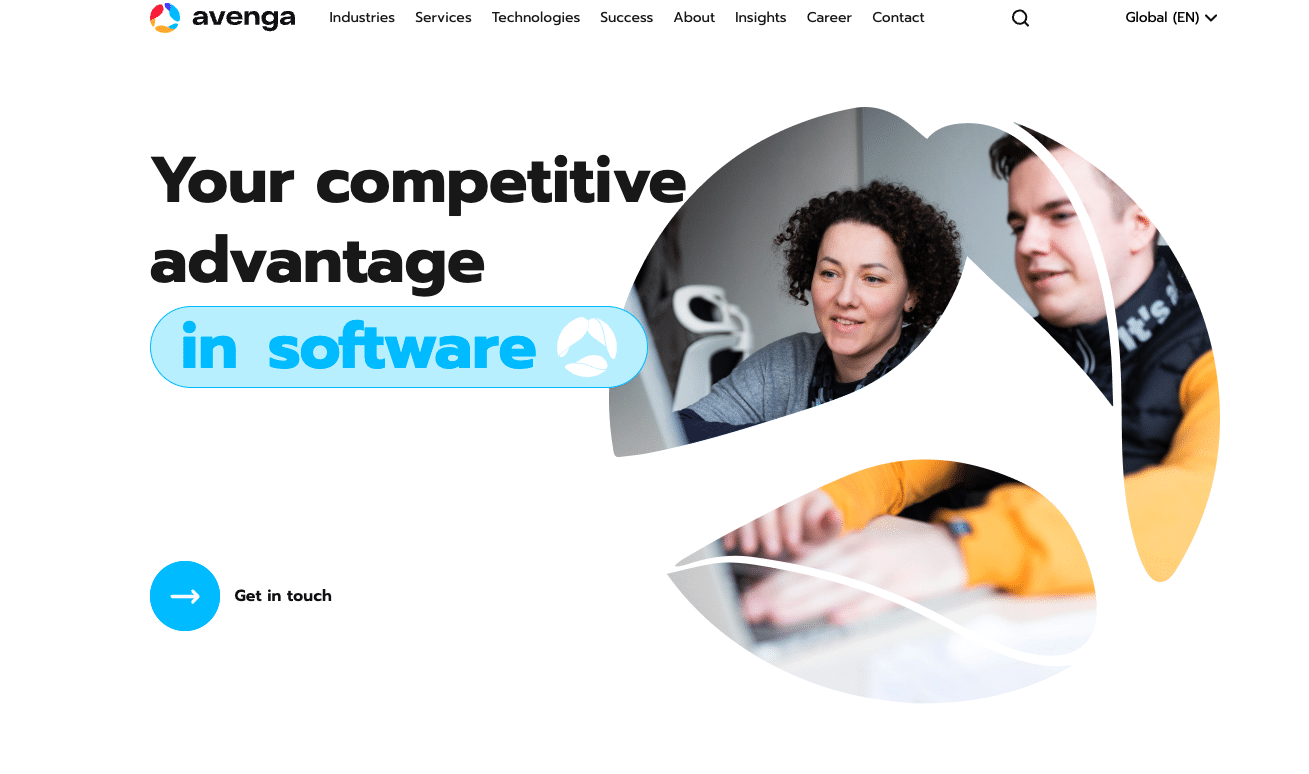 Pros:
Wide range of expertise, including machine learning
Full-cycle data services
Adaptability to client needs
4. Talentica Software
Talentica Software is positioned as a technology partner for startups and high-growth companies. During the last 18 years, they have successfully empowered over 170 tech companies by developing cutting-edge tech products. Their technical expertise extends across a wide array of technologies, including AI/ML, Blockchain, BigData, DevOps, IoT, AR, UX/UI, and more. Their key strength lies in providing dedicated engineering teams that align with your product vision and act as an extended part of your own core product development team. This ensures the smooth and efficient delivery of your projects, as seen in their high referral rating of 4.8/5 on Clutch.
Pros:
Wide range of expertise
Focus on startups
Flexibility
5. BIX Tech
BIX Tech, founded in 2014, is a highly qualified company, providing custom software development services that specializes in data engineering, data science, business intelligence (BI), and artificial intelligence (AI) practices. It has garnered excellent customer satisfaction ratings, showing its commitment to delivering value to its clients.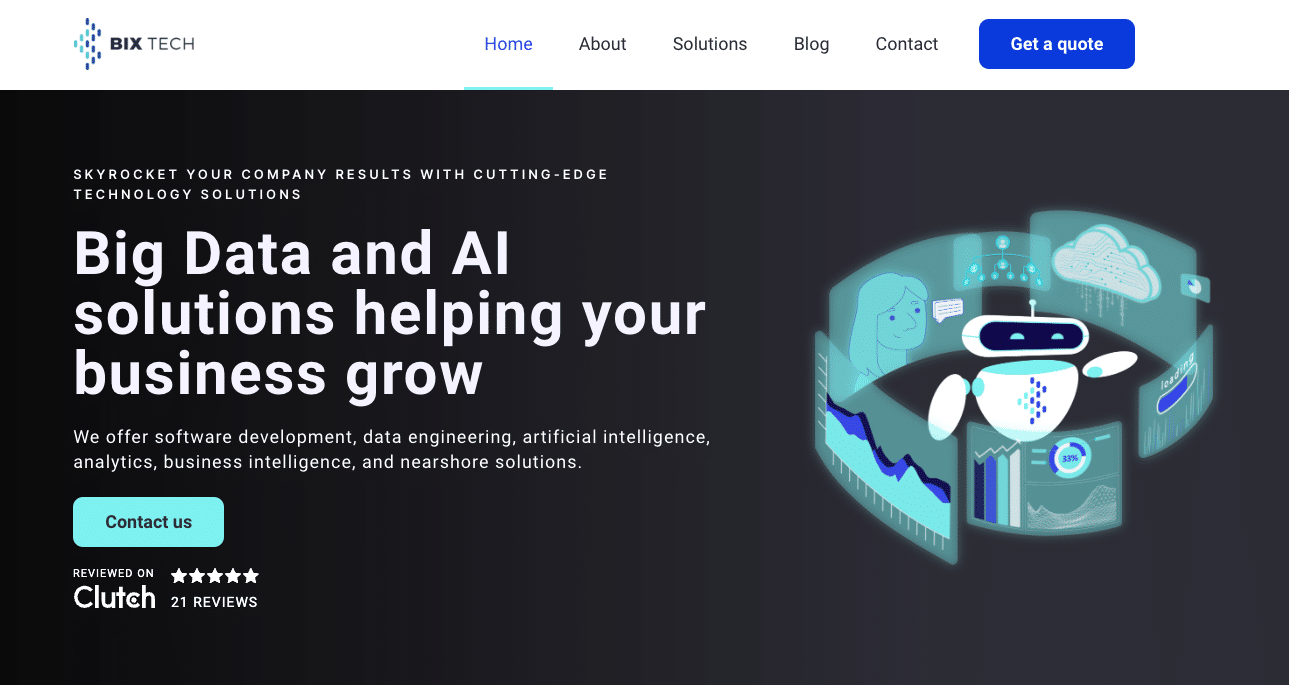 The company has established itself as a reliable tech partner capable of solving complex business problems through strategic data use. By helping enterprises make sense of their data, BIX Tech empowers them to boost business performance and make more informed decisions
BIX Tech offers its services across five different time zones, giving it a global presence. The company has established itself as a reliable tech partner capable of solving complex business problems through strategic data use.
BIX Tech's commitment to quality and customer satisfaction is exemplified by its impressive 5.0 average referral rating
Pros:
Global presence
Focus on enterprises
Strategic data use
6. InData Labs
Spanning sectors such as Fintech, eCommerce, sports, entertainment, and digital health, InData Labs provides businesses with consulting services in the realms of AI and big data. They maintain an in-house R&D center and assist enterprises in system scaling for market expansion. InData Labs constructs tailored AI solutions from the ground up, and existing products are refined to align with specific business needs.
Their key proficiencies lie in Computer Vision (CV) and Optical Character Recognition (OCR). Moreover, they offer expertise in employing predictive analytics and natural language processing tools for enhancing business intelligence within an organization. Collaborating with establishments of all dimensions, InData Labs aids in the integration of the most recent technological advances into their operations.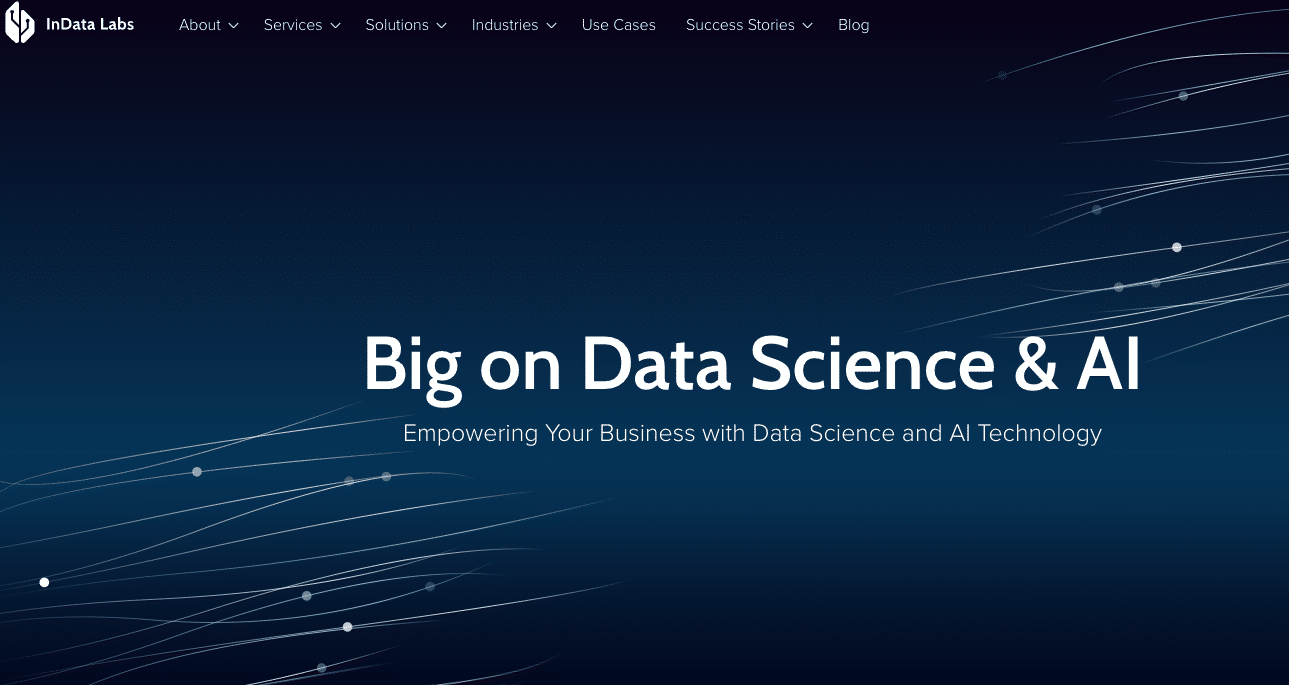 The quality of service InData Labs offers is apparent in their client feedback. Clients praised them for their commitment to delivering products on time and meeting project expectations. They exhibit attention to detail, effective communication, and regular project updates. These positive remarks underscore the company's consistent quality in delivery and customer satisfaction, reflected in their average referral rating of 5.0 on Clutch.
Additionally, the company is multilingual, offering services in English, Spanish, and Arabic, which increases their reach and ability to cater to a global clientele.
Pros:
Strong in Computer Vision (CV) and Optical Character Recognition (OCR)
Multilingual: speaks English, Spanish, and Arabic
Proven track record
7. DataRoot Labs
DataRoot Labs supports startups and enterprises in leveraging the potential of contemporary AI technologies tailored to their stage of growth. They have assembled an impressive portfolio of AI use cases and demos, reviewing both the technical and business aspects of projects they have accomplished with their clients.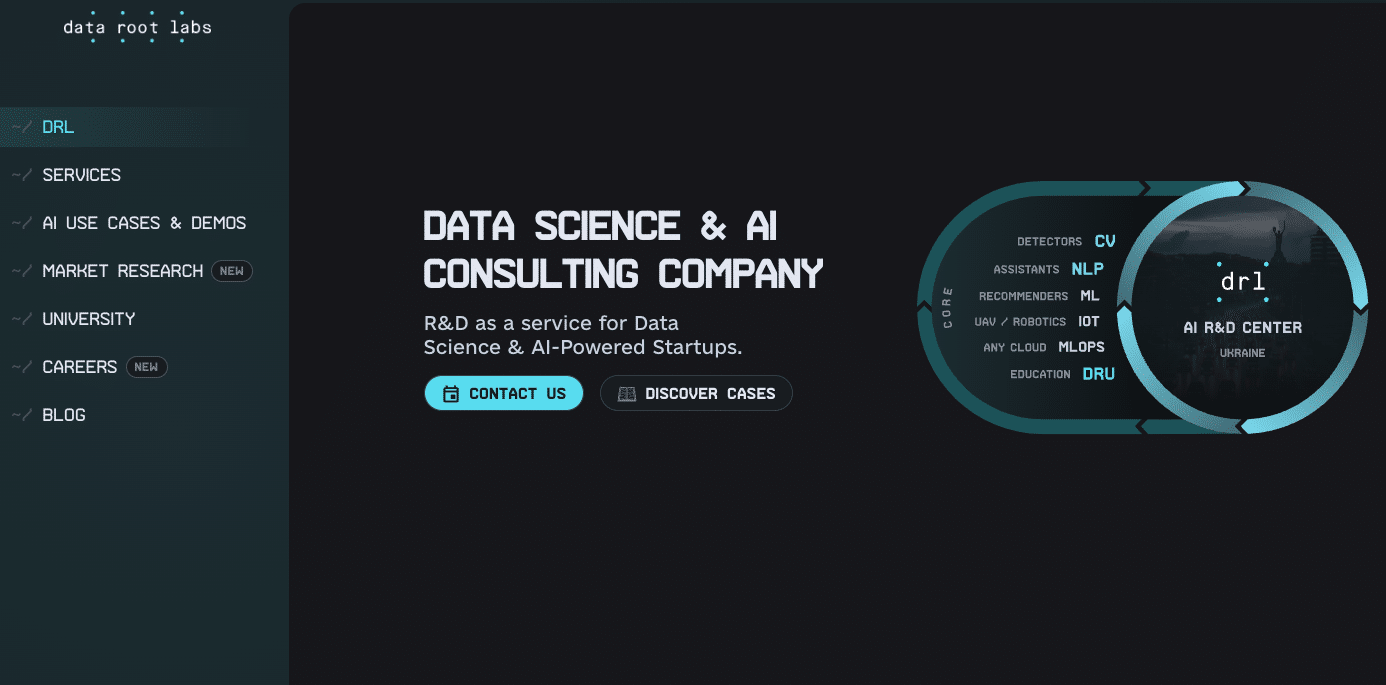 The organization is renowned for contributing to t he development of the ecosystem by operating DataRoot University, the largest data science and data engineering school in Ukraine. They also service clients across 17 different time zones and communicate in three languages: Ukrainian, English, and Spanish.
At their AI R&D Center, the team at DataRoot Labs works on projects that stretch across a broad spectrum. For example, they have developed an AI system that can analyze critical information about vehicle and driver parameters in real-time. They've also created machine learning-powered data warehouses for SERP analytics, enabling the monitoring of website positions inside global and local search engines. Their portfolio even includes a solution for tracking customer behavior within a store, offering valuable insights for retail businesses.
DataRoot Labs have also demonstrated their capability to build complex systems from the ground up, such as a media plan performance analytics platform for a leading Japanese advertising holding. Their client feedback reflects their commitment to delivering top-quality services. They have been praised for creating scalable solutions that not only meet project requirements but also contribute to improved business performance. Their diligent attention to detail, effective communication, and continuous project updates is evident in their work.
Pros:
Comprehensive and wide-ranging use cases
Proven track record with high-profile clients
Robust tech stack
The impact of machine learning and artificial intelligence
Machine learning companies aren't just technological innovators; they are transforming industries. By implementing machine learning solutions across various sectors, from healthcare to finance and beyond, companies fundamentally alter how businesses operate, enhancing efficiency, and unlocking new possibilities. For instance, in healthcare, machine learning can enable early disease detection, while in finance, it can help detect fraud, and in education, it can power personalized recommendations of study paths. Each application marks a step towards a more streamlined, intelligent future, explaining why a machine learning partner can be a game-changer for your business.
Benefits of machine learning business applications
Machine learning helps industries to flourish. For example, enterprises that, as a part of their digital transformation, have embraced machine learning significantly benefit in terms of operating costs, efficiency, and productivity and now enjoy sector-leading positions (ex., Siemens or General Motors).
Enhanced customer experience
Machine learning will be helpful for your customers (i.e., your business). For example, chatbots, virtual assistants, or callbots can eliminate annoying lag that could happen between consumers' needs and business responses.
Error reduction
A good ML algorithm frees employees from repetitive and dull tasks. The machine precisely follows the given instructions without becoming distracted or tired. Thus, it eliminates "human factor" errors from your automated processes.
Automation
AI-powered automation can augment almost every business process, from onboarding and support to communications and marketing to distribution: it speeds up repetitive tasks and reduces errors. For example, in manufacturing processes, machine learning automation can decrease scrap rates and testing costs and improve yield by up to 30%.
Operational efficiency growth
Efficiency increase is another benefit of machine learning, as a logical consequence of automation. Moreover, a machine can tirelessly and efficiently work 24/7; algorithms can process enormous amounts of data without burning out. Hence, the estimated improvement in business productivity after implementing AI reaches 54%.
Tackling complex problems
Some tasks require an analysis of multiple connections within data, which can be challenging and time-consuming for humans. For example, going through thousands of sources to look for the mentions of politicians and parties and then analyzing each message's emotional context take hours. In contrast, the AI solution, made by MindTitan, performs the same task in minutes, detecting and flagging suspicious cases for auditors to determine if there was any public money misuse.
Better decision-making
Since humans cannot process and coordinate the avalanche of data as quickly and well as machines do, AI and machine learning technology provide businesses with value. A machine learning algorithm analyzes raw data and translates them into an objective decision.
Conclusion
The significant role and benefits of machine learning in today's technological landscape cannot be understated: it offers unprecedented solutions, delivering efficiency, productivity, and economic growth. From MindTitan's successful AI projects to the transformative work of other industry leaders like CHI Software and STX Next, the impact of machine learning companies extends across sectors, revolutionizing healthcare, finance, education, and more.
As we move forward, it's essential that businesses understand the value of embracing machine learning innovations. Whether it's adopting custom solutions, implementing turn-key solutions, or partnering with an accomplished machine learning team, these steps can unlock new levels of success.
The frontier of machine learning is still being defined, and, as businesses and individuals, we have the exciting opportunity to be part of this journey. Embracing the innovations brought forth by top machine learning companies is more than a business strategy; it's an investment in the future, a commitment to progress, and a stride towards a smarter, more efficient world.